News Release - July 25, 2016
Stained glass window installation complete at the Comox Valley Airport
News Release
July 25, 2016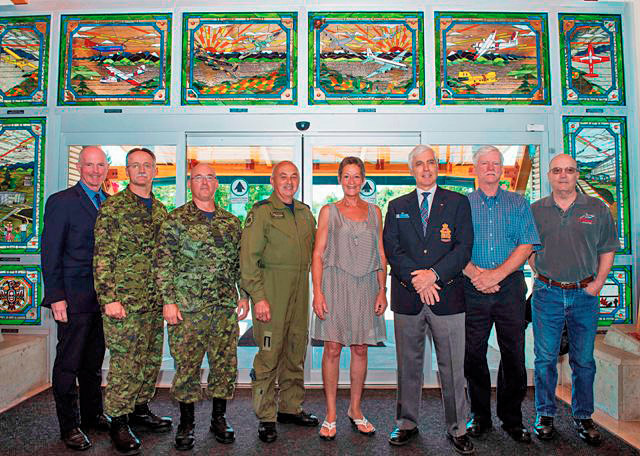 Right to left: Fred Bigelow (YQQ) Chief Warrant Officer, Desmond Flood (407 Squadron), Major James Cox (407 Squadron), Dave Mellin, Honourary Col (407 Squadron), Jan Lindstrom, Artist, Terry Chester (Royal Canadian Air Force Association), Jim Loring (Maritime Patrol International), Phil Cashman, Chief Warrant Officer (Retired)
The stained glass window display surrounding the entrance of the Comox Valley Airport is now complete, thanks to the installation of a tenth and final window commemorating 407 Squadron and the unique working relationship between 19 Wing Comox and YQQ.
The window was donated by three military aviation partners. Two-thirds of the costs were covered by Maritime Patrol International, with the Royal Canadian Air Force Association and the 407 Squadron Association splitting the remaining third.
"The Comox Valley Airport could not exist without the support of 19 Wing Comox and we remain ever appreciative of the integral role 19 Wing plays in our operations," said Comox Valley Airport CEO Fred Bigelow. "We are proud to have such a wonderful tribute to our partnership adorning the entrance to our terminal building."
The window was created by local glass artist Jan Lindstrom and depicts the Neptune, Argus and Aurora anti-submarine and maritime reconnaissance aircraft flown by 407 Squadron.
"I am so excited to finish this piece and complete the display of stained glass around the main entrance at YQQ," said artist Jan Lindstrom. "A part of me goes into everything I create, so the airport has a big piece of me! I feel very honored to have had the opportunity to create this legacy and hope everyone will enjoy these windows for years to come."
407 Long Range Patrol Squadron is responsible for the surveillance of Canadian coastal waters and protects the safety and security of Canadians at home and abroad. Flying CP-140 Auroras, the crews spend long hours over the ocean looking for illegal fishing, migrant and drug smuggling and polluters. They can also perform search and rescue missions using air-droppable survival pods. 407 crews frequently support other governmental agencies such as the Department of Fisheries and Oceans and have been active in Afghanistan, Libya and Iraq.
The 407 Squadron window joins nine others created by Jan Lindstrom that celebrate YQQ's unique history and military roots, including tributes to WWII Fighter Aircraft, Search and Rescue missions and the Canadian Armed Forces Snowbirds.
About the Comox Valley Airport
The Comox Valley Airport (YQQ) is an economic driver for Northern Vancouver Island, supporting about 193 direct jobs including airlines, airport management, security, food and beverage, retail and ground transportation. The airport and tourism business community together generate $367 million in Gross Domestic Product and $701 million in direct economic output for the Vancouver Island community. YQQ is operated by the Comox Valley Airport Commission, which was established in 1996 as a non-share capital and not-for-profit organization to operate the civil aviation facilities, including the terminal and apron at YQQ. The airfield and its associated systems, including air traffic control, are operated by the Royal Canadian Air Force at 19 Wing Comox on a continuous 24-hour basis.
Media Contact
Christianne Wile
Comox Valley Airport
(250) 890-0829 ext. 253
cwile@comoxairport.com