News Release - April 22, 2015
YQQ's past commemorated by newest stained glass window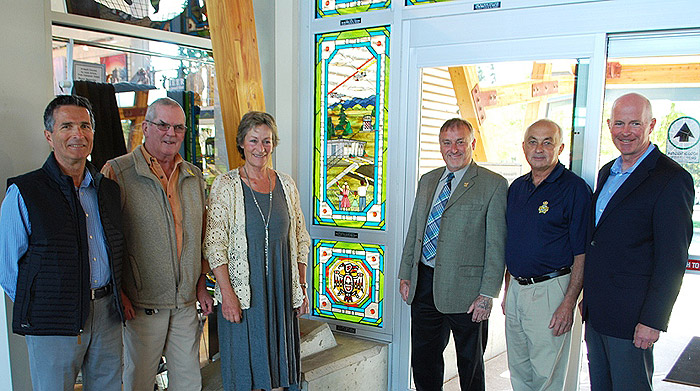 The Comox Valley Airport was not always the full-service, modern terminal building that it is today. A decade ago, the airport was a small, temporary structure that required passengers to stand outside in order to check-in for their fights.
"It was the successful operation of that terminal that allowed us to grow our passenger numbers to the point that construction of a new building was viable," explained Comox Valley Airport CEO, Fred Bigelow.
Thanks to a donation by Thrifty Foods, the Comox Air Force Museum and Mr. Doug Inrig, the previous terminal and all of its successes will be recognized as part of the stained glass installation by artist Jan Lindstrom that adorns the entrance to YQQ's terminal. In recognition of the role 19 Wing Comox has played in the airport's achievements, the window also depicts two T-33 aircraft representing 414 Squadron, as well as the previous air traffic control tower.
"Whether creating jobs for the community or getting people to where they need to go, the Comox Valley Airport is a vital economic link for the Valley and 19 Wing Comox plays and integral part in that," said Andy Carter, Manager of Thrifty Foods in Downtown Courtenay.
"YQQ is a huge success story for the Comox Valley and we are proud to support this initiative which recognizes the contributions of both these organizations to our community," echoed Jeff Ackinclose, Manager of Thrifty Foods in Crown Isle.
Other window sponsors include the Comox Air Force Museum, as well as Mr. Doug Inrig. Inrig's parents, Bruce and Betty, were World War II veterans that served in the Royal Canadian Air Force for a number of years after the war. Bruce and Betty were both members of 888 Wing Comox.
All three donors were on hand to unveil the window, which passengers at the Comox Valley Airport will be able to enjoy for many years to come.
About the Comox Valley Airport
The Comox Valley Airport (YQQ) is an economic driver for Northern Vancouver Island, supporting about 193 direct jobs including airlines, airport management, security, food and beverage, retail and ground transportation. The airport and tourism business community together generate $367 million in Gross Domestic Product and $701 million in direct economic output for the community. YQQ is operated by the Comox Valley Airport Commission, which was established in 1996 as a non-share capital and not-for-profit organization to operate the civil aviation facilities, including the terminal and apron at YQQ. The airfield and its associated systems, including air traffic control, are operated by the Royal Canadian Air Force at 19 Wing Comox on a continuous 24-hour basis.
For more information about the Comox Valley Airport follow us on Facebook or Twitter.
Media Contact:
Christianne Wile
Comox Valley Airport
(250) 890-0829 ext. 253
cwile@comoxairport.com