Public Health Update: COVID-19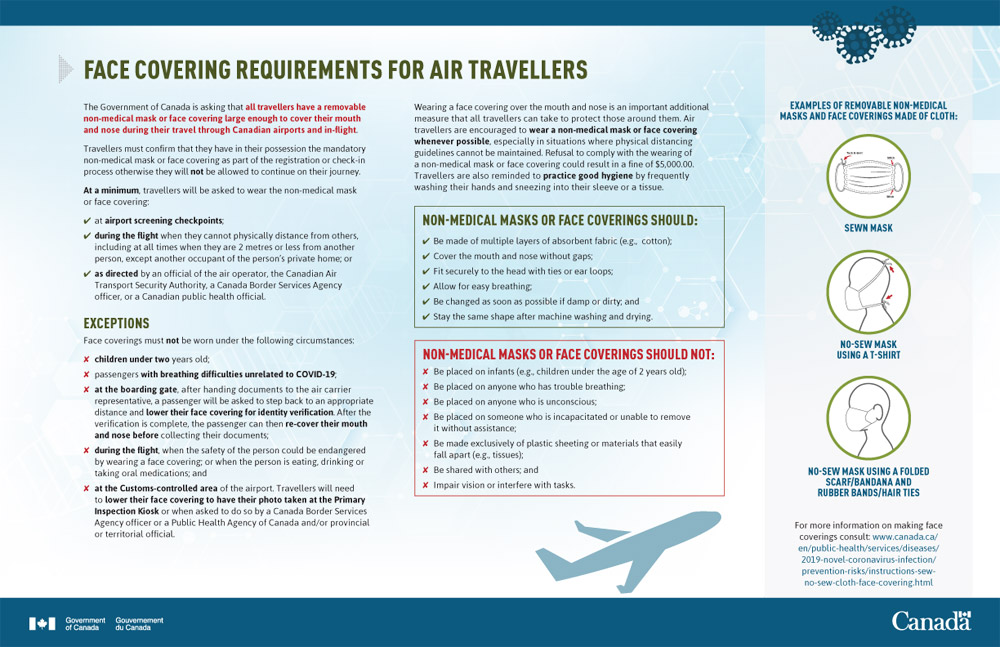 Transport Canada has issued new regulations requiring Face Covering/Masks to be worn by Air Travellers commencing Monday, April 20th, 2020.
Additional information regarding face coverings, including how to make your own - Click Here
Updated: July 29, 2020
Passengers are reminded to stay informed post flight
CVAC would like to remind all passengers to monitor for symptoms, or potential exposure to COVID 19, following any international or domestic flights. Airlines will not be contacting passengers that may have had exposure:
Effective March 27th, passengers seated near a case of COVID-19 who was recognized after arrival will no longer be directly notified of their potential exposure. Instead, that information is posted online (see below). Where information on affected rows is available, passengers seated in these rows should be considered to be at higher risk of exposure due to their proximity to the case.
Please continue to check via this link for fourteen days following any flight.
For individuals who need assistance or cannot read the list of public exposures below, please call: 1-888-COVID19 (1-888-268-4319).
---
Updated: June 11, 2020
The Comox Valley Airport is adapting to the rapid changes brought about by the COVID 19 pandemic and will remain open for necessary passenger travel, medical transport flights, or to facilitate cargo or humanitarian efforts.
Transport Canada's Interim Order to Prevent Certain Persons from Boarding Flights in Canada due to COVID-19 is in effect. Further information is available online here. Passenger should be prepared for increased screening measures prior to boarding any flights.
The public is kindly asked to observe social distancing measures within the terminal, and to observe all public health directives regarding the mandatory 14-day isolation period upon return from any destination.
Passengers, or those helping someone who requires mobility assistance, should be the only ones to enter the terminal during pick up and drop off.
Individuals who greet, pick up, and/or drive returning passengers must observe the same isolation protocols as the returning passenger.
Airport operations will continue to follow the CVAC Pandemic Operating Plan as well as directives from Transport Canada and public health agencies including, but not exclusively:
Increasing cleaning cycles of touch points & eating areas
Social distancing measures including line marks, plexiglass and other barriers at service counters.
Rotating bathroom closures to facilitate enhanced cleaning cycles
Increased signage for education and information regarding prevention, quarantine and social isolation protocols.
Hand sanitizer units and handwashing stations monitored for stocking
Closure of café and gift store. (update - cafe and store are open, with limited hours) Vending machines are available for hot and cold drinks, and snacks. All touch points receive frequent wipe downs.
Telecommuting and reduction of staff hours to better isolate workers.
CVAC volunteer support suspended until further notice
WestJet continues to provide service between Comox and Calgary, and Pacific Coastal Airlines has resumed service to Vancouver. Please check with the airlines to confirm schedules. Please
Click Here
for links to our carriers.
Budget, National, and Enterprise Rental Car services are operating with reduced hours. Please contact them directly to confirm hours of operation contact information is available here.
For information regarding air travel, including bookings, cancellations, and current policies in effect, contact your airline. Click here for links to all of the carriers serving the Comox Valley Airport.
For the most accurate and up-to-date information on the COVID-19 situation, please visit the Public Health Agency of Canada - PHAC's website
PHAC has established a toll-free COVID-19 information line at: 1-833-784-4397.
Important note: if you have any concerns about your health, please contact your healthcare provider or dial 811 if you're in British Columbia.
Public Health Agency of Canada Updates
---
Nous comprenons qu'il y ait des soucis auprès de nos passagers et le public en général en ce qui concerne le COVID-19. Le gouvernement du Canada continue de considérer le risque comme étant peu élevé pour les canadiens.
Malgré le risque peu élevé, CVAC reconnait le potentiel d'infection et de transmission du virus pour nos passagers en connexion depuis les régions a haut risques, ou les bateaux de croisière. En se basant sur notre propre plan de réponse à une pandémique, et avec les recommandations de l'Agence de Sante Publique du Canada, nous avons adopté les mesures suivantes:
Une augmentation des panneaux d'affichage afin d'éduquer et d'informer sur la prévention et quoi faire si des symptômes apparaissent
Une augmentation de la fréquence des cycles de nettoyage des endroits a passage élevé et dans les salles à manger
Un arrêt complet des services de bénévoles a CVAC
Une fermeture rotationnelle des salles de bains afin de faciliter le cycle de nettoyage
Confirmation que les stations de lavages des mains et les distributrices de savons et liquide aseptiques sont rempli régulièrement
Une emphase continue du besoins de se laver les mains vigoureusement, de se distancer socialement et de démontrer une bonne étiquette d'éternuement et de toux
Nous avons avise tout membre de notre équipe qui montre des signes de fièvre ou de la grippe de demeurer à la maison
Pour toute information relie au transport aérien, incluant les réservations, cancellations et les politiques courantes actives, veuillez consulter votre ligne aérienne. Appuyez sur
ce lien
pour avoir accès à toutes les lignes aériennes servant l'Aéroport de la Vallée de Comox
Pour l'information la plus précise et à jour sur le COVID-19, veuillez suivre le lien suivant. Mise à jour sur l'éclosion de l'Agence de Sante Publique de Canada
L'Agence de la Sante Publique du Canada a aussi un numéro sans frais pour le COVID-19: 1-800-784-4397
Note Importante: Si vous avez des soucis à propos de votre santé, veuillez contacter votre médecin ou composez le 811 si vous êtes en Colombie-Britannique.
Mise à jour sur l'éclosion de l'Agence de Sante Publique de Canada