YQQ is helping to increase awareness among students in the Comox Valley about the airport and its operations through its school tour program.
Age Groups
Tours are designed for students in kindergarten through grade three. There are also special shorter versions of the tour available for pre-school aged students from three to five years.
Tour Itinerary
The elementary school program follows a day in the life of YQQ, starting with a tour where the first stop is meeting airline staff and discussing how passengers check into flights. The tour includes a lesson on how baggage is screened by security staff. The interactive tour utilizes a special demonstration suitcase full of items that allows students see how baggage screeners utilize the x-ray screening equipment.
Students will also learn how baggage is collected and loaded in and out of an aircraft. They will receive a special escorted tour on the "airside" of YQQ operations to learn about how aircraft and passengers are handled once they arrive at the terminal building. There is plenty of opportunity for questions and at the conclusion of the tour students will receive a special souvenir from the airport.
Booking a Tour
Elementary and pre-school officials that are interested in booking a tour for their students, or obtaining more information about the program, can or phone 250-890-0829 ext. 254.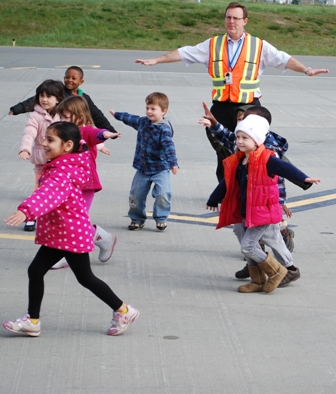 Students from J. Puddleduck Pre-School in Courtenay
enjoy their tour with Operations Manager Alex Robertson.